In a video made public on November 23, a prototype of Turkey's TF-X next-generation fighter can be seen in the assembly line. Turkish Aerospace Industries, or TUSAS, is developing the aircraft.
China's Naval Fighter Jet, J-15 'Flying Shark,' Is Finally Powered By Indigenous Turbofan Engines — Media
The TF-X program, also known as Milli Muharip Ucak (MMU, or National Combat Aircraft), began in December 2010 to build an indigenous fifth-generation combat aircraft.
The footage was recorded on November 21, as indicated by a placard fastened to the jet's spine. On the same day, representatives from the Turkish Air Force, the defense-industrial agency, and the ministry of defense officially visited the assembly line.
The video shows that the aircraft's fuselage and wings have largely been assembled. However, numerous elements are yet to be installed in aircraft.
The absence of horizontal stabilizers, dual engines, outward-canted tail fins, modern avionics, and an ejection seat is seen in the images.
The aircraft's prototype is expected to be completed in 2023, with the first flight scheduled for 2025. Turkish President Recep Tayyip Erdogan also confirmed this timeline in January 2022.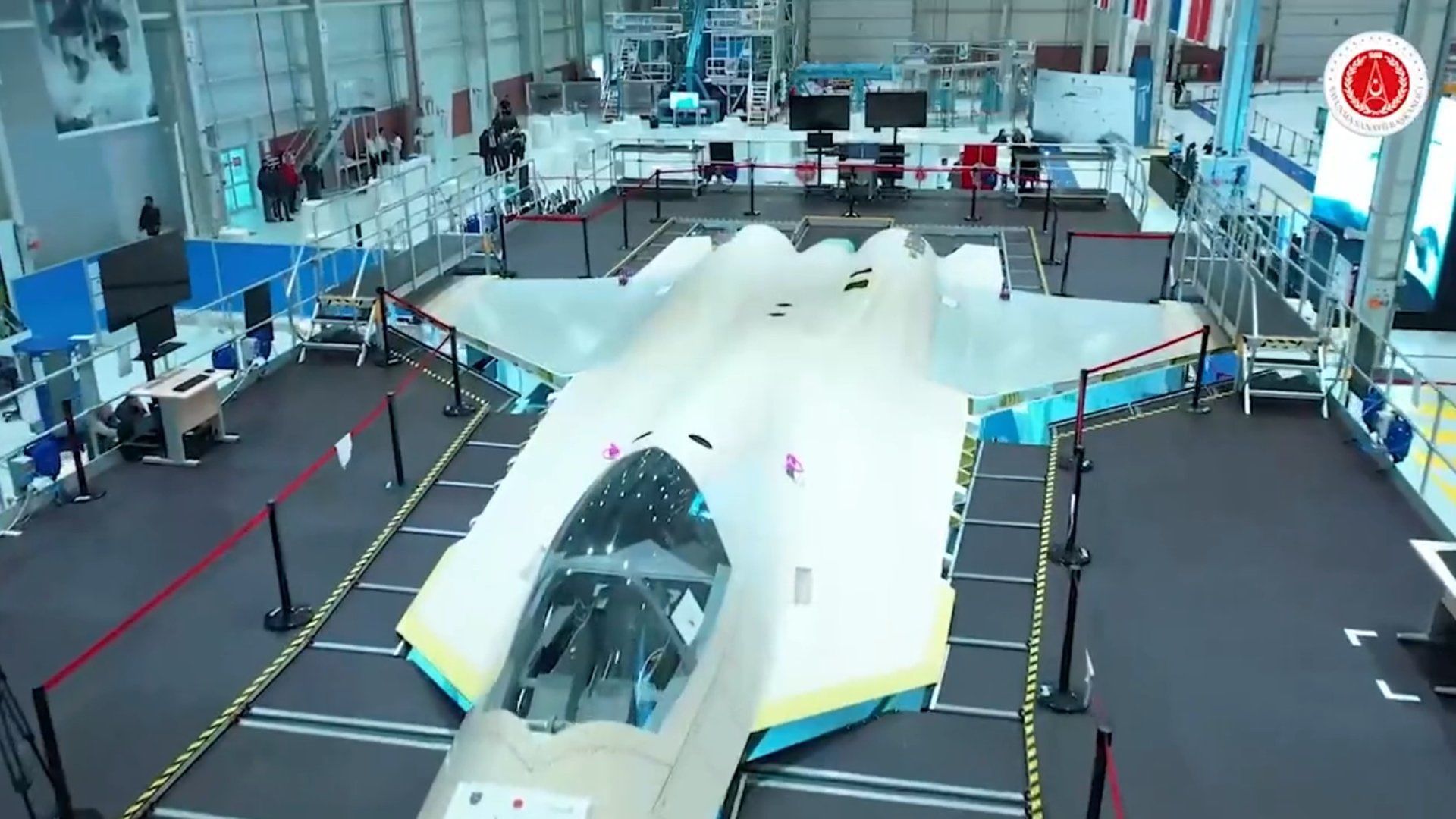 However, there appears to be some ambiguity surrounding the specific time frame in which the Turkish Air Force will put the aircraft into service.
Initially, it was intended that the first examples from the production cycle would go into service as early as 2028. However, it is currently anticipated that the Turkish Air Force will begin receiving the aircraft in the early 2030s.
Challenges Associated With Program
The idea of a cutting-edge stealth air superiority fighter is the bedrock of the TF-X fighter jet's development. The TF-X jet was meant to replace Turkey's F-16C/D fighter fleet when it was first conceptualized in the early 2010s.
At the time, the Turkish Air Force did not have a pressing need for a fifth-generation fighter because the country was an essential partner of the F-35 Joint Strike Fighter program and had plans to purchase 100 F-35s.
It even invested up to $1.4 billion in the F-35 program. However, Turkey was kicked out of the F-35 program in 2019 by Washington as retaliation for Ankara's earlier acquisition of Russia's S-400 missile defense system.
Along with losing its $1.4 billion investment, Ankara also missed out on $9 billion in potential economic activity that would have resulted from the country's long-term involvement in the F-35 program.
The TF-X program serves as a lifeline in some ways for Turkey's domestic military sector, which is recovering from these significant and unexpected setbacks. But, the country's ability to develop the aircraft also faces further challenges due to the loss of the F-35s.
In 2018, Turkey picked the F110-GE-129 or F110-GE-132 after-burning turbofan from General Electric to propel the fighter. However, the deterioration in US-Turkish ties made it appear a distant possibility.
In July, the Turkish government launched a competition to develop a homegrown turbofan engine that will power TF-X fighter jets. Another engine choice is Rolls-Royce, which was first passed up in favor of GE as the TF-X power plant supplier.
In October 2016, Rolls-Royce proposed a collaborative production agreement with Turkey to supply the country's future platforms and prospective third-party sales.
In its proposal, the business offered to build an engine production facility in Turkey that would also produce engines for helicopters, tanks, and missiles in addition to those for the TF-X.
In 2017, another British company, BAE Systems, and TAI agreed to a contract worth more than £100 million (US $120 million) to develop the Turkish Fighter jet. In February 2022, BAE systems tweeted, "We work with Turkish Aerospace to bring know-how and engineering expertise to the TF-X program."
Purchasing a Russian engine has also been mentioned, but it is currently an extremely remote possibility due to the ongoing conflict in Ukraine and sanctions on Moscow.
Meanwhile, Turkey intends to purchase 40 brand-new F-16 Block 70/72 jets and the necessary kits to upgrade an additional 80 of its current F-16C/Ds.
The new and upgraded F-16s would serve as a temporary solution until the TF-X can be deployed in large numbers. However, given the tense relationship between Ankara and Washington, such a deal is far from guaranteed.
The post Stunning Images Of Turkey's TF-X Fifth-Gen Combat Aircraft Prototype In Assembly Line Mesmerizes Netizens appeared first on Latest Asian, Middle-East, EurAsian, Indian News.
from Latest Asian, Middle-East, EurAsian, Indian News https://ift.tt/9seGNo5